Projects
AUSJET's and ADCVA's core services include building the capability and capacity of our members business and to work with industry to implement and maintain safety procedures.
AUSJET and ADCVA are always trying to build the capability and capacity of our members with all of our projects and initiatives designed to assist them in building a better business.  If you know of, or are involved with, a project that you believe AUSJET and ADCVA should apply for or be involved with, please email support@ausjetinc.com.au
---
Vacuum Loading Best Practice Project
This is the Australian first edition of the Recommended Practices and was assembled by the AUSJET/ADCVA Committee to develop Recommended Practices for the Use of Industrial Vacuum Equipment. It has been developed to encompass Australian National and State legislation and units of measurement.
We acknowledge the work of the United States Water Jet Technology Association (WJTA) committee in developing the 2018 edition of the Recommended Practices for the Use of Industrial Vacuum Equipment. That work has been adapted to align with the current Australian Laws and Regulations. This workbook has employed and utilised suggestions and advice received from Australian industrial contractors, suppliers and manufacturers who have helped shape the current industry environment. It is a pleasure to recognise the debt that the industry owes to these individuals and to their employers who have provided the time for them to make this effort.
As the industry continues to change, it is important that this document recognises and reflects developments in the industry. We request that any suggestions for amendments to these Recommended Practices be sent to:
Australasian High Pressure Water Jetting Association (AUSJET)
Email: support@ausjetinc.com.au
Recommended Practices for the Use of Industrial Vacuum Equipment: First Edition 2020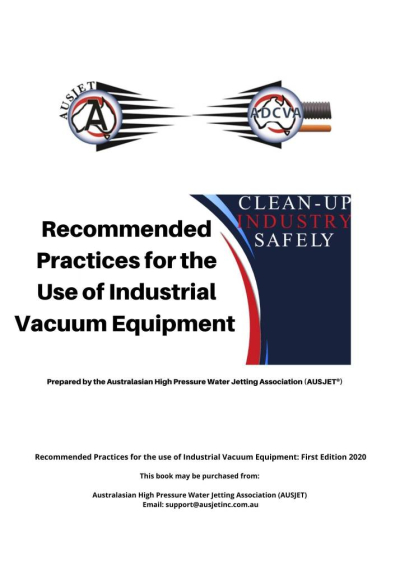 To purchase this booklet, please go to the Merchandise page for more details.
---
Drain Cleaning Best Practice Project 
AUSJET/ADCVA would like to thank all those who put themselves forward to participate in the Drain Cleaning Best Practice Work Group. It was the Boards decision to have only one representative per Member Company on the work group, with wider industry able to participate via member workshops.
Acknowledgements
AUSJET/ADCVA acknowledges the member companies who contributed to this publication through attendance and input at the various workshops held around Australia.
Specific advice and in-depth contributions from the following companies and individuals within their areas of expertise.
JR Richards & Sons
Jeremy Farnant
Veolia Environmental Services
David Kingston
Cleanaway
Clay Bartlett
Pipe Management Australia (PMA)
Aaron Marmara
Abdex Industries
Oliver Bain
Into Training Australia Pty Ltd
Wally Budia
KOR Equipment Solutions Pty Ltd
Peter Jones
Spoutvac Industries a BUCHER Company
Rodney Purtill
WOMA Australia Pty Ltd
Ian Blevin
Direct Hit
Jim Paris
Content Contribution.
Recommended Practices for the Use of Industrial Drain Cleaning Equipment: First Edition 2022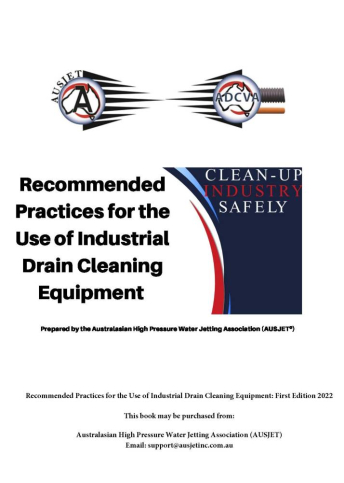 Is now available for purchase. Go to the Merchandise page for more details.
---
AS 4233:2013 Review
Monday, 31 January 2022
AS 4233:2013 REVIEW SCOPE & PROJECT PLAN
Executive Summary
The intent of AS 4233 part 1 is to provide for safe operation and maintenance and part 2 for construction and performance. The intent therefore is to ensure that operation, maintenance construction and performance can be carried out in accordance with basic safe work principles.
The application of high pressure water jetting operation in Australia and New Zealand has increased since the last revision of AS/NZS 4233 Parts 1&2, published in 2013.
Amendments/Updates proposed in 2017 led to minor changes to both standards were released in September 2020 as AS 4233 1&2 (2013).  These amendments covered off some of technological advances in the water jetting industry, however there may be some instances that do not meet the current operational, construction, and safety requirements that industry demands.
The current standards AS 4233 1&2 (2013) incorporating Amendment 1 (September 2020) can cause some confusion within our industry.
Most water jetting operations have kept pace with the changes, however there is a need to revise both standards, to reflect the ever-changing nature of the water jetting industry.
There has also been an exponential increase in the amount of drain cleaning and hydro excavation units in both the Australian and New Zealand market, which utilise high pressure water jetting pumps covered by the scope of AS 4233 Parts 1&2. Due to the type of work conditions and environments in which some of these units operate, in some circumstances it is impractical or impossible to comply with AS 4233 Parts 1&2 in its current form.
High water pressure jetting use has become a normal practice for industrial and commercial cleaning applications within Australia and New Zealand.  Industries and sectors that utilise high pressure water for cleaning and maintenance activities include but are not limited to, Local Governments, Water Authorities, Power Authorities, Port, Rail, Mining, Oil and Gas. Civil Construction, manufacturing and the domestic market for the cleaning of household drains by plumbers.
The nature of low, high and ultra-high pressure water jetting processes and the safety of water jetting operators requires that standards keep pace with both the construction and application of these processes.
In addition, it has been discovered that there is a conflict between AS 4233 2013 High Pressure Water Jetting Systems and AS/NZS 60335.2.79:2017 Household and similar electrical appliances - Safety Particular requirements for high pressure cleaners and steam cleaners.
This conflict is significant with manufactures unable to comply to comply with both standards.
The scope of the project proposal will be determined by members of AUSJET/ADCVA, members of the Standards Australia SF043 High Pressure Water Safety committee and other invited attendees.
Purpose
The purpose of the review is to ensure the safety of operators and bystanders, and to enable companies to operate in compliance with the standards, whilst maintaining the highest level of safety.
Scope
The review seeks to.
Include advances in technologies and operating systems used within high pressure water jetting operations, including but not limited to gear box pump technologies, boom trucks and other automated devices and to provide clarity around the requirements of drain cleaning units, covering both construction and operation of these units, from larger industrial units to smaller plumbers jetting units.
To provide a clear delineation between the requirements of between AS 4233 2013 High Pressure Water Jetting Systems, and AS/NZS 60335.2.79:2017 Household and similar electrical appliances - Safety Particular requirements for high pressure cleaners and steam cleaners.
It is not the intent of the review to water down any of the existing protections and safety controls contained within AS 4233:2013 Parts 1&2. Where they cannot be reasonably complied with a solution needs to be identified to maintain the integrity of the standard.
Process
The intent of this process is to collect recommended changes to the standard and consolidate them, for the purpose of completing a project proposal to SAI Global for consideration of a review of AS4233 in 2023.
It is intended that the final decision on any recommendations, will be determined by the Standards Australia SF043 High Pressure Water Safety Committee.
A committee of seven AUSJET/ADCVA members will be formed, chaired by an AUSJET/ADCVA board member to oversee the process to review all recommended changes for their compliance, with the intent and scope of the project plan.
4 x Contractor members
1 x Hose supplier member
1 x High pressure pump manufacturer or supplier
1 x Drain cleaning pump manufacturer or supplier
AUSJET/ADCVA will contact all stakeholders advising them of the project plan, scope and timeline for the review. Included in this communication will be a request for recommended changes to the standard within the scope of the purpose of the review.
Recommendations for changes to both Parts 1&2 will be requested on separate forms. These forms will then be returned to the AUSJET/ADCVA Administrator for consolidation. Once received the committee members will review the recommended changes, to confirm their compliance with the scope of the review.
Should the committee find that a recommended change does not conform to the scope of the review, the Committee Chair will contact the stakeholder for clarification. The recommended change may then be reconsidered by the Committee if additional information/context is supplied.
AUSJET/ADCVA will hold information sessions throughout the process, to keep members and other stakeholders informed of the progress.
Once this process has been completed the list of recommended changes will be forwarded to all stakeholders. The project proposal to be submitted to SAI Global will then be completed and presented at AUSJET22, prior to being submitted to SAI Global by the end of October 2022.
---
Hydro Excavation (NDD) Study: Call for Member's Participation
AUSJET / ADCVA are planning a project to evaluate the effect of water jetting pressures and flows on different infrastructure assets, when carrying out Hydro Excavation (NDD). Hydro Excavation utilises high pressure water usually in the range of 2000psi to 8000psi at varying flows in conjunction with vacuum, to locate and expose assets in a passive non-destructive method during civil construction projects and maintenance work around underground assets.
There are varying theories about what type of pressure/flow can be used on specific assets, there are some assumptions that a pressure of no more than 2000psi should be used. This was based on a non-published trial completed on a fibre optic cable, the issue with this trial is it's not only pressure that can damage an asset, but also the technique, water flow and jet size weren't considered.
If a high-pressure lance sits stationary long enough on an asset, at some point it will cause damage. In addition, the type of nozzle being used can have an effect, for example a pin nozzle is more concentrated in one spot, however, a turbo nozzle that spins can be used to minimise impact on the asset, whilst still being productive.
Hydro Excavation is used extensively throughout the world; Australia, North America, Europe, UK, Asia and Canada and to our knowledge no organisation has ever completed a comprehensive study on pressure/flow/ nozzle size/techniques to be used regarding different asset material types.
Pressure what pressures are causing damage to different underground services
Water flow what is the optimum water flow for each asset
Nozzle Size How does that play a part in optimizing productivity but not damaging the asset
Single jet V's Rotating nozzle what is the time differences with regards to damage of the asset
Technique are their differing techniques to best protect the asset and reach improve production
What innovative automation technology can be introduced to take the operator away from the lance
AUSJET / ADVCA proposes to carry out studies on the following assets:
Fibre Optic Cable
Underground Power Cable
High Voltage & Low Voltage electrical cable
Potable Water Pipes
Storm Water Mains
Sewer Mains
AUSJET / ADVCA have partnered with a number of contracting companies that can provide samples of each asset to run the tests, also AUSJET / ADVCA along with its members can facilitate operational displays, live job site studies for the researcher to determine how the work is performed in the field and what the challenges are, technical information around pump sizes and water flow. AUSJET / ADVCA's plan is to complete the study and present the findings at AUSJET22.
AUSJET / ADVCA are calling on our members and other relevant industry associations and industry bodies to provide input, participate in the study and endorse the study. As a member of AUSJET / ADCVA should you wish to participate or have any comment on the scope and other inclusions, please contact support@ausjetinc.com.au.
---