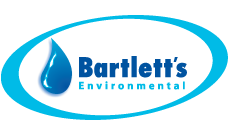 Bartlett's Environmental
6 Haworth Court, BREAKWATER, VICTORIA 3219
Postal Address:
PO Box 3105, GEELONG, VICTORIA 3220
Contact: Adam Polkinghorne
P: 03 52 487 955
F: 03 52 487 677
Family owned environmental services company - high pressure water jetting, hydro excavation, asset management, cctv, vacuum loading. 60 Employees Spoutvac SV3750 Cassette combo units - 269lpm @ 152bar, 1 inch and 1/2 inch hoses, Class B hydro excavation
Bartlett's are focused on the conservation of the environment and implementation of sustainable practices. We have a range of innovative technology and equipment that reduce environmental impacts due to more resourceful water use, waste minimisation techniques and more efficient transportation.
Our core services include liquid waste management, hydro excavation (non-destructive digging), drain cleaning, mobile dewatering, CCTV inspections, chemical root treatment, high-pressure cleaning, grease trap management, vacuum loading, confined space entries, asset management, project management, dredging and 24/7 emergency response.
Bartlett's Environmental is focused on providing innovative and environmentally sustainable solutions. As a family owned and operated company we believe in putting people and planet first.
We dedicate considerable time, resources and energy into constant research and improvements to our technology and processes so that we stand out from the crowd at the forefront of innovation in an ever-changing climate.
Our staff are invested, we are proud to consistently meet and exceed project outcome expectations despite location, scope and difficulty because we thrive on community engagement, customer satisfaction and transparency of data.
Map